<![if !supportEmptyParas]> <![endif]>
<![if !supportEmptyParas]> <![endif]>
MILLER'S HIGHLIFE IS OVER
Tapper Extraordinaire Ann Miller Dies
By Edward Callaghan and Annie Watt
<![if !vml]>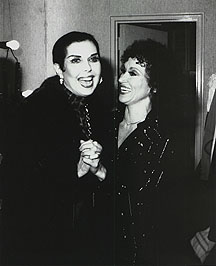 <![endif]>
Ann Miller with Chita Rivera back in 1979
Photo by Rob Rich
<![if !supportEmptyParas]> <![endif]>
Johnnie Lucille Collier, aka Ann Miller passed away last week at the age of 81  (or 82 or 83 )depending upon which of her friends you quote ( a real lady never tells her age!).
Miller may have mixed up the numbers a bit but she never mixed up the  rat-a-tat-tat of the dance routines that brought her to stardom.
           Discovered by RKO film star Lucille Ball in 1937, her raven hair and gorgeous gams made her a staple of the Hollywood musicals of the 30s and 40s.  Her early career took her through the studio systems of RKO, Republic and Columbia pictures. Some felt her acting ability was for outstripped by her vigorous tap-dancing style and limited her to second leads but always with a big splashy routine that would steal the show.
        Arriving at MGM in the late 40s, she was too old for the ingénue parts but her gruff manner slotted her into some pretty juicy rolls nonetheless.  Her brilliance, shown in Easter Parade with Fred Astaire and Judy Garland, significant roles in big lavish musicals like On the Town, Kiss Me Kate, and Small Town Girl followed.  She never disappointed. So great were those legs that Lloyd's of London insured them for a staggering $1,000,000.
   Miller dropped out of films when nudity and explicit sex scenes became the norm.  But she found her path back to stardom with the Vaudeville send-up of "Sugar Babies" with Mickey Rooney – a Broadway smash that allowed a new generation to gasp at her style, speed, agility and grace (and close to 60 years old then).
      We'll always remember her in a showgirl corset, a next to nothing skirt and that incredible lacquered black cloud of hair – at least a dozen cases of hairspray kept her do from disaster.  So much of a trademark it became the running joke on Broadway in the 80s went like this. "Did you hear Ann Miller fell into the orchestra pit? Was she hurt? Yeah! She broke her hair."
      Now the lacquered hair, the million dollar legs and the mega-kilowatt smile has left us. If you listen closely you'll hear Annie tap, tap, tapping at Heaven's door.
<![if !supportEmptyParas]> <![endif]>
<![if !supportEmptyParas]> <![endif]>